Exercise Physiology
Mention the code "Fit 101" for $5 off your initial exercise physiology consultation when you book online



New Patient online booking
Mention the code "Newbie" when booking an appointment online for $5 off your initial physiotherapy consultation



Achilles Tendonitis
Posted by Active Body Physiotherapy on 18 July 2014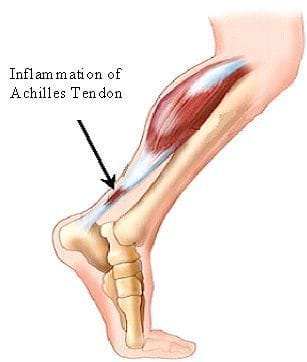 Achilles Tendonitis
Achilles Tendonitis is a common injury causing pain in the rear of the heel. The Achilles is one of the hardest working tendons helping us to walk, run and jump. Pain often occurs in the Achilles when it has to work overtime causing overuse and degeneration in the tendon structure.
Tendonitis is the inflammation of the tendon itself and often will cause pain, swelling and sometimes redness to the region that is inflamed. This is a natural response to overuse that is caused by our movements; the inflammation is part of our repairing phase.
There are two types of Achilles tendonitis
- Insertional tendonitis; this is as the fibres insert on the rear of the heel
- Non-insertional tendonitis; this is just above the insertion in the thick part of the tendon
Tendonitis of the Achilles begins slowly and develops over time. Micro-tearing of the tendon can occur, which over time may not heal if there is too much repeated stress going through the Achilles and the Achilles does not have enough recovery time to heal. Tight calf muscles, poor footwear and increases in exercise are common factors that contribute to people developing Achilles tendonitis.
Treatment
Often rest and recovery is important with tendonitis. Ice and medication may be used to help with sharp pains that occur after exercise or activity. Stretching, strengthening and physiotherapy is important in addressing any biomechanical issues that need to be corrected to help prevent this returning in the future. Correct/suitable footwear is important to provide you with the right support and cushioning that is required for your foot type.
Author:
Active Body Physiotherapy