Exercise Physiology
Mention the code "Fit 101" for $5 off your initial exercise physiology consultation when you book online



New Patient online booking
Mention the code "Newbie" when booking an appointment online for $5 off your initial physiotherapy consultation



Adhesive Capsulitis
Posted by Active Body Physiotherapy on 21 July 2015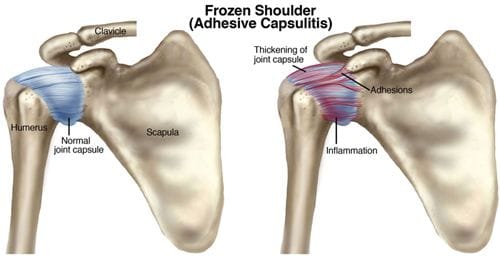 Frozen shoulder is the colloquial term given to a condition called Adhesive Capsulitis. It is an injury of the shoulder joint that involves inflammation, scarring and tightening of the connective tissues of the shoulder joint. Frozen shoulder is a painful condition that results in a reduction of range of motion. Its cause is unknown, but it typically follows a period of immobility. The period of immobility may be caused by an injury, surgery, sickness or a multitude of other reasons.
There are a number of predisposing factors that may make someone more susceptible to acquiring frozen shoulder than others. Women are more likely to have a frozen shoulder injury than men and it is most common in women between 40-60. Other factors that predispose to frozen shoulder include diabetes and auto-immune diseases.
Frozen shoulder normally resolves itself over a period of time that can range from 6 months to 3 years. It is not known why frozen shoulder occurs or why some people recover quicker than others.
There are three stages of frozen shoulder; freezing, frozen and thawing. The most painful stage of frozen shoulder is usually the freezing stage which can last anywhere between 2-6 months on average. The frozen stage is usually not as painful, but range of motion is limited usually in lifting the arm and/or reaching behind your back. This frozen stage can last anywhere between 4-12 months and the final stage is the thawing stage which may last anywhere from 4-18 months, in this stage the shoulder starts to "loosen up" and range of motion is eventually restored.
Physiotherapy is often prescribed as a treatment for frozen shoulder. Physiotherapy looks to decrease pain levels (in association with appropriate medications prescribed by your GP), maintain active range of motion and eventually assist in restoring pain free active range of motion of the shoulder joint as well as strengthening the surrounding muscle groups, such as the rotator cuff, which may have been laying relatively dormant throughout the injury time.
If you suspect you have frozen shoulder/adhesive capsulitis, be sure to book in an appointment with your friendly Physiotherapists here at Active Body, so we can help you get back to your regular activities in a timely manner.
Author:
Active Body Physiotherapy