Exercise Physiology
Mention the code "Fit 101" for $5 off your initial exercise physiology consultation when you book online



New Patient online booking
Mention the code "Newbie" when booking an appointment online for $5 off your initial physiotherapy consultation



Texting Neck: Is texting causing your neck pain?
Posted by Active Body Physiotherapy on 27 November 2014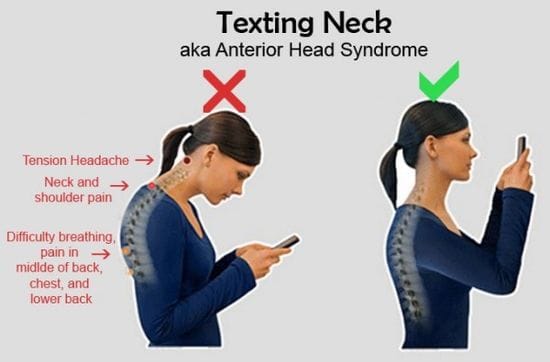 The typical texting position: head down, palm up, reading/playing/watching.
New studies show this could be putting as much as 27kg of strain on our necks. The study showed that the forces placed on the cervical spine by the standard texting position can be quite heavy. The weight/force applied to the spine dramatically increases when flexing the head forward at varying degrees.
The human head weighs between 4.5-5.5kg, but with the head tilted to 60°- the standard texting position- the forces on the neck can increase to 27kg. The increased stress on the cervical spine caused by this "bent-head" posture may lead to early wear, tear, degeneration and possibly to surgery.
Avoiding technology that causes these issues is next to impossible in this day and age, however, we should be making an effort to look at our phones with a neutral spine and avoid spending hours each day hunched over.
Before we place all the blame on our beloved smart phones, it's unlikely to be the sole cause for most people's neck problems. Pain is multidimensional. Risk factors for neck pain include non-physical factors such as age, gender, type of employment, stress at work, work activities and psycho-social factors. There is an increasing body of information linking genetic predisposition, personality traits or mood and physical environment with neck pain.
So if you're already pre-disposed to neck pain by other risk factors such as those listed above and you are spending extended periods of time on your smart phone (or even tablet/iPad and laptops), this may be the last straw sending you into neck pain.
If you're suffering with neck pain that you suspect may be caused by your texting habits, or any other causes for that matter, come in and see our Physiotherapists for an assessment and treatment to get you back to living a happy, healthy and pain free life! Call Active Body on (02) 9899 8242 and speak to our lovely reception staff to book your appointment!
Author:
Active Body Physiotherapy