Casting and Splinting
Active Body therapists are highly trained at treating a wide range of injuries that require casting and/or splinting. We use fibreglass casting material along with gore-tex so the cast is waterproof. Should a specialist or doctor require that the cast not get wet, we can also address this issue as it arises. Our staff will proficiently fabricate the following types of casts should you require.
Short arm casts
Scaphoid casts
Short leg cast (below knee)
Long arm casts
Full Leg casts

As well as casting we also have the ability to custom make splints/braces to best support your injury. We use a heat moldable thermoplastic material along with padding and supports as required for the injury.
Additionally we carry a wide range of orthopaedic supports and braces at the practice, these include but are not limited to the following:
Camwalkers
Aircasts
Knee braces
Hand splints and thumb supports
Neoprene body sleeves for muscle support
Shoulder stability braces
Ankle guards

Should we not carry the exact item you require, we are very happy to special order it for you.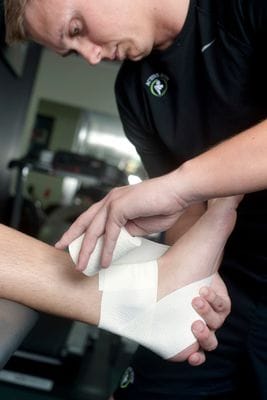 Exercise Physiology
Mention the code "Fit 101" for $5 off your initial exercise physiology consultation when you book online



New Patient online booking
Mention the code "Newbie" when booking an appointment online for $5 off your initial physiotherapy consultation